Since the app launched in 2016, TikTok's user base has grown to include more than 500 million people. It's also just passed the one billion-downloads mark.
It shows no sign of slowing down, with a whopping 75 million sign ups in December 2018—up 275% from the previous year.
Those aren't the only landmark figures worth noting. The app, which is especially popular with Gen Z, has already courted controversy. In early 2019 they found themselves in hot water over child privacy law violations.
In response, TikTok has increased security measures and launched online safety campaigns, teaming up most recently with Internet Matters.
But is TikTok as big a deal as it seems? Is TikTok a good fit for you brand? Luckily, we have answers.
Learn about TikTok stats, demographics, and early brand content to decide if it's time for your brand to get on board.
What is TikTok?
TikTok bills itself as a "destination for short-form mobile videos," but of course it comes with all the trappings of a social media community, too.
Video creators can share vertical, looping videos between 15 and 60 seconds in length. An extensive editing toolkit, with an array or filters and effects, and a massive music library, lets users tune and score their content to clever and comedic effect.
TikTok is often mistaken as a lip-syncing app. This is likely because it was preceded by Musical.ly, a social app that was built around just that.
In 2017, TikTok's parent company, Bytedance, purchased Musical.ly for $800 million. Bytedance had already launched Douyin, the forerunner to TikTok, in China. After acquiring Musical.ly, the two platforms merged and launched TikTok.
In China, the app still goes by its original name, Douyin.
Key TikTok stats:
In February 2019, TikTok exceeded one billion installs from the App Store and Google Play. More than half of these installs occurred in 2018.
Valued at $75 billion, TikTok's parent company Bytedance surpassed Uber to become the world's most valuable start-up.
By November 2018, the TikTok app was downloaded nearly 80 million times in the United States.
Sensor Tower estimates TikTok made approximately $3.5 million in October 2018 from in-app purchases.
In November 2018, Facebook released Lasso, a "clone" of the TIkTok app that is currently only available in the United States.
How does TikTok work?
From TikTok's algorithm, to duets and hashtag challenges, there are many facets of the TikTok platform worth knowing.
What can you do on it?
Here's a point-by-point summary of the main things you can do on TikTok.
Videos
Watching and creating videos are central to the TikTok experience. Videos and slideshows can be uploaded or created in-app with stop and start recording, timers, and other effects.
Music
TikTok's extensive music library and integration with Apple Music is where the app edges out all other social platforms.
Creators can add, remix, save, and discover songs and sounds via playlists, videos, and more. According to Genius, TikTok plays a big role in helping tracks climb the charts.
Video editing
During post creation, users can apply visual filters, time effects, split screens, transitions, stickers, GIFs, emoji, and other effects.
Interaction
TikTok users can follow accounts that they like, and give hearts, comments or shares on videos they enjoy. Videos, hashtags, sounds, and effects can be added to a user's Favorites section.
Virtual money
TikTok offers in-app purchases of coins, which users can buy to give to creators. Prices for coins start at $1.39 for 100, and go up to $139.00 for 10,000.
Live streaming
Some creators have the ability to livestream on TikTok.
Profiles
In addition to tallying followers and accounts followed, TikTok user profiles also show how many hearts the user's content has received. As on Twitter and Instagram, official accounts are given blue checkmarks. Popular creators are also designated with orange checkmarks.
How do people typically use it?
TikTok is at times hilarious, searing, bewildering, and poignant. Creative users have already found an abundance of ways to express themselves on the app.
Trends on TikTok move fast, but here are the main ones that have found lasting power.
Challenges
TikTok challenges typically prompt users with a popular song or hashtag like #LiteralLyrics or #AirplaneChallenge to create their own video around the theme. Challenges can go viral fast, especially since TikTok often features the hashtag on the search page.
Late night host Jimmy Fallon helped increase the app's mainstream visibility when he launched his own hashtag challenge, #TumbleweedChallenge, on his show.
Duets
Duets are a popular collaborative feature on TikTok that allows users to take another person's video and add themselves to it. These videos typically play on a call-and-response format, with room for a partner inherently built into them.
Bonus: Get the step-by-step social media strategy guide with pro tips on how to grow your social media presence.
Cringe videos
Cringe compilations may be difficult for the pre-YouTube generation to wrap their heads around. Essentially, these videos aim to make audiences cringe with painfully-awkward-yet-supposedly-sincere performances. Cringe videos often creep their way into challenges and duets.
React videos
Under the share option of someone's video, users can choose to post a reaction. YouTubers may have pioneered the reaction genre, but TikTok users have perfected it. A user can record their reaction while the video plays, and then position where they want their overlay video to play alongside the original.
The TikTok algorithm
Like most social media platforms, TikTok is all about user-generated content. But unlike Facebook, Instagram, Twitter and other sites, TikTok revolves less around people you follow, and more around introducing users to new content.
Fed by its algorithm, the TikTok For You feed shows users content it thinks they will like, and makes adjustments based on their behavior over time. As New York Times columnist John Herrman put it, "Imagine a version of Facebook that was able to fill your feed before you'd friended a single person. That's TikTok."
TikTok demographics
TikTok and its parent company Bytedance are guarded when it comes to sharing statistics and user data, but here's what we know so far.
Age
Tik Tok is especially popular with teenagers, a demographic commonly referred to as Generation Z. According to Global Web Index, 41% of TikTok users are between 16 and 24 years old.
On Douyin, in China, 75% of users are between 18 and 35 years old. Unsurprisingly, this segment also happens to be the most active on the app.
Geography
TikTok, under its native Douyin alias, is of course popular on its home turf in China where it has 500 million monthly active users.
While China may be the biggest user base, TikTok is available in 154 countries worldwide, with 40% of its users located outside China.
India has a particularly large user base, and accounts for approximately 25% of app downloads to date. In Thailand, a reported one in seven people have downloaded the app. And in Japan, the app had approximately 9.5 million monthly active users in the last quarter of 2018, with an average of six sessions per day.
In the United States, the TikTok app has been downloaded more than 96 million times.
Gender
In an interview with Glossy, Jenny Lang, managing partner of Integrated Investment at UM Worldwide, notes that TikTok has an actively engaged female audience. Within the 16-24 year-old age range, she says the app has a reach of 60 %.
In China, the male-to-female gender ratio on Douyin sits at approximately 4:6
The list of brands on TikTok already includes Nike, Fenty Beauty, and Apple Music. While TikTok has yet to unveil advertiser options in North America, it has apparently been testing in-app ads since as early as January 2019. A few ad sightings have already been reported, including a Disney Kingdom Hearts promo.Rolling through TikTok and got an ad from Specialized Bikes that just takes you to their profile when you tap "Learn more" but then brings up "video ads do not support this feature" when you tap on the promoted music track.
Sponsored ads for Five Feet Apart, a film starring teen heartthrob Cole Sprouse, have also been appearing in the upper carousel of TikTok's search page feed. The ad includes a sponsor disclaimer and includes the option to buy tickets in the app.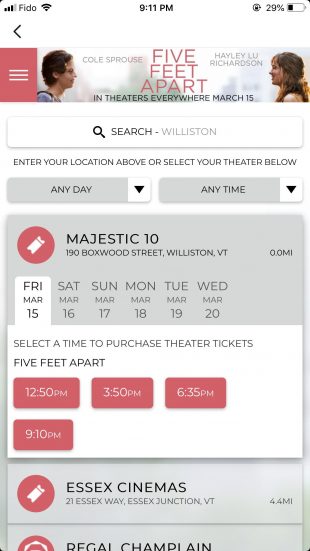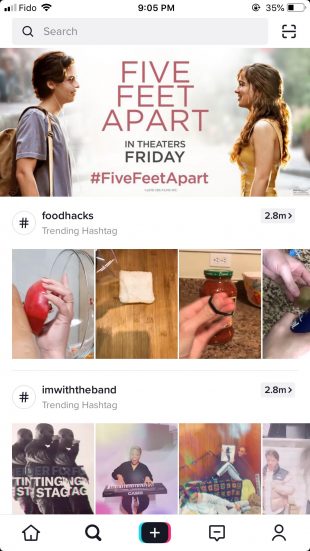 Branded hashtag challenges
Guess was the first fashion retailer to enter the fray in September 2018, partnering with TikTok to create the first branded content takeover in the US. The #InMyDenim hashtag challenge tapped prominent content creators to demonstrate how Guess transforms looks from blah to banging, and was able to rack in more than 37 million views.
Calvin Klein's "My Calvin" campaign reportedly earned 10 times the engagement it had on a similar initiative it ran in 2015 starring Justin Bieber, reports Glossy.
Influencer marketing on TikTok
Some brands, such as Universal Pictures have dabbled in TikTok influencer marketing campaigns. To promote the premiere of its film, The House with a Clock in its Walls, the studio scouted popular creators to share branded content.
Douyin is reportedly signing contracts with influencers in China, some of who make up to 100,000 Renminbi per post (almost $20,000 CAD). Because the app does not track account creation and video posting dates, some caution that bots and faux-influencers are harder to spot.
Branded stickers on TikTok
Just in time for the Super Bowl, TikTok released NFL Player AR stickers, a product comparable to Snapchat's branded stickers and filters.
Specializing in short highlights means there's lots of room for sports brands to get in on the action, as evidenced by Red Bull's feed. The professional soccer team Inter Milan also joined TikTok in December 2018 in a bid to better connect with young audiences.